Going tankless. What's that? It's not referring to taking your top off! Going tankless means getting a tankless water heater. This can be a great decision for some people, but of course there are drawbacks too. Here are some pros and cons that will give you a better idea of what's right for you:
Pros of Getting A Tankless Water Heater
Never run out of hot water
Last up to 10 years longer than tank heaters
A more efficient option for the home
They take up less space
You can knock up to 20% off your water heating bill
No possibility of flooding
Cons of Getting a Tankless Water Heater
They are more expensive
You may need an addition circuit
Electric models can use more energy
Other Things to Consider
What else do you need to consider when thinking of going tankless?
A whole house model can cost anywhere from $500-$700
A whole house gas model can cost anywhere from $1000-$2000
Electric models are usually cheaper to install than gas
It's a clever idea to compare your energy guide sticker on your current heater and the tankless model you have your eye on to get a better idea of whether it's right for you. You can then weigh in the other expenses of going tankless, like electricity updates and venting costs.
How Does a Tankless Water Heater Work?
You should know how a tankless water heater works before you replace your current one. The infographic below will help you: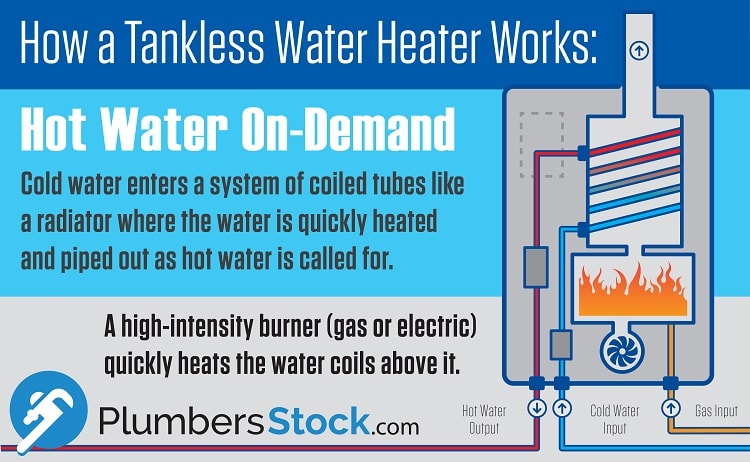 credit to PlumbersStock
Have you thought about going tankless in your house? Do you know of anyone who's gone tankless? After looking at the article and infographic, will you consider it? Do you see the benefits? What other things around the house you like to upgrade? What would make you skeptical in doing such thing? Head to the comment section below and give me some feedback about this topic. Check out Plumber Stock for more information.
Please follow and like us: